It's A Monster
11/25/2016 at 06:00 am
Smokin Js is teaming up with the Realm of Caring once again to give away a Monster 3' Tall Saxophone Bubbler in the New Year's Charity Raffle. This heady piece is large and in charge. The grand prize winner will receive a piece of furniture along with a sublime water pipe.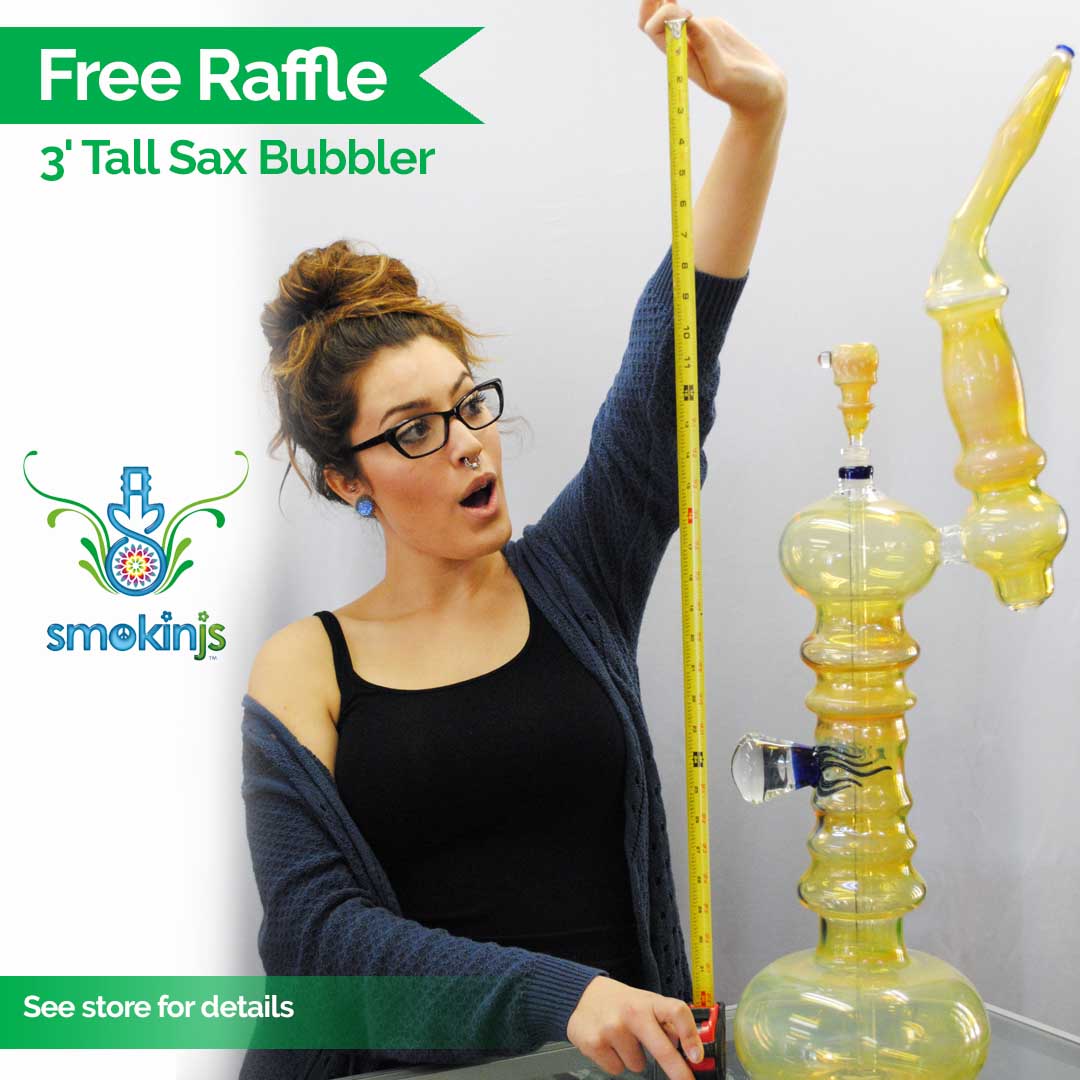 Smokin Js is giving out 4 other consolation prizes that raise the total value of the raffle over $1,000. FOR FREE!!!
How do you enter? It's easy. Just visit a Smokin Js location and find out all the ways to enter. You can enter more than once, and there are numerous ways to enter. It's a free raffle so we like to make it fun and easy. The drawing will be held on 01/06/17 via the Smokin Js YouTube channel. You must be over 18 years of age to enter. We will not ship the Monster Bubbler, so the winner will have to pick up the prize at their nearest Smokin Js location.
Three times a year, Smokin Js teams up with the Realm of Caring charity to give away thousands of dollars of prizes. In conjunction with the free raffle, Smokin Js collects donations on behalf of the Realm of Caring. For the duration of the New Year's Raffle you can make a donation to the Realm of Caring at any Smokin Js location. Every penny of donations received go straight to the Realm of Caring. We at Smokin Js are proud to partner with this outstanding charity, making a difference is so many lives.
The Realm of Caring is focused on Cannabis Research, Education, and Advocacy. The charity is the number one cannabis related 501c3 charitable entity in the United States. The charity performs a lot of wonderful research and educational tasks that help spread the truth about cannabis, but my favorite aspect of the Realm of Caring is their Joy Fund. The Joy Fund awards a $2500 interest free loan and a $2500 relocation grant to families in need of medical cannabis therapy that do not live in a legal medical state.
Visit a Smokin Js location today and donate to the Realm of Caring and enter our Monster Bubbler Free Raffle.