2016 Annual Ugly Sweater Party
12/27/2016 at 18:21 pm
We had a great time with the third annual Ugly Sweater Party. Thank you to all the great people who joined the fun and merriment to celebrate the Holiday Season. The entire Smokin Js crew, and a bunch of customers, donned their ugliest sweater to celebrate the holidays and bring awareness to the Realm of Caring national cannabis charity. We have so many ideas for the next Ugly Sweater party in 2017, we can't wait for the next Holiday Season.
For three years Smokin Js has teamed up with the Realm of Caring national charity for a donation drive to help spread factual medical cannabis awareness and help families move from non medical cannabis states to enlightened states that have legalized medical cannabis. We were blessed to find this wonderful charity several years ago, and we cherish our relationship. Smokin Js is very proud to connect our customers to this worthwhile cause.
So far in the Holiday donation drive for Realm of Caring, Smokin Js customers have donated over $1200!! We are only a couple hundred dollars short of last year's donation amount. We will be accepting donations to the Realm of Caring until December 31st, 2016 at any Smokin Js retail location.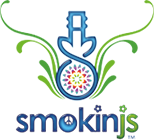 Read more about the Realm of Caring here.