Vancouver Art Show #2:
04/26/2017 at 23:25 pm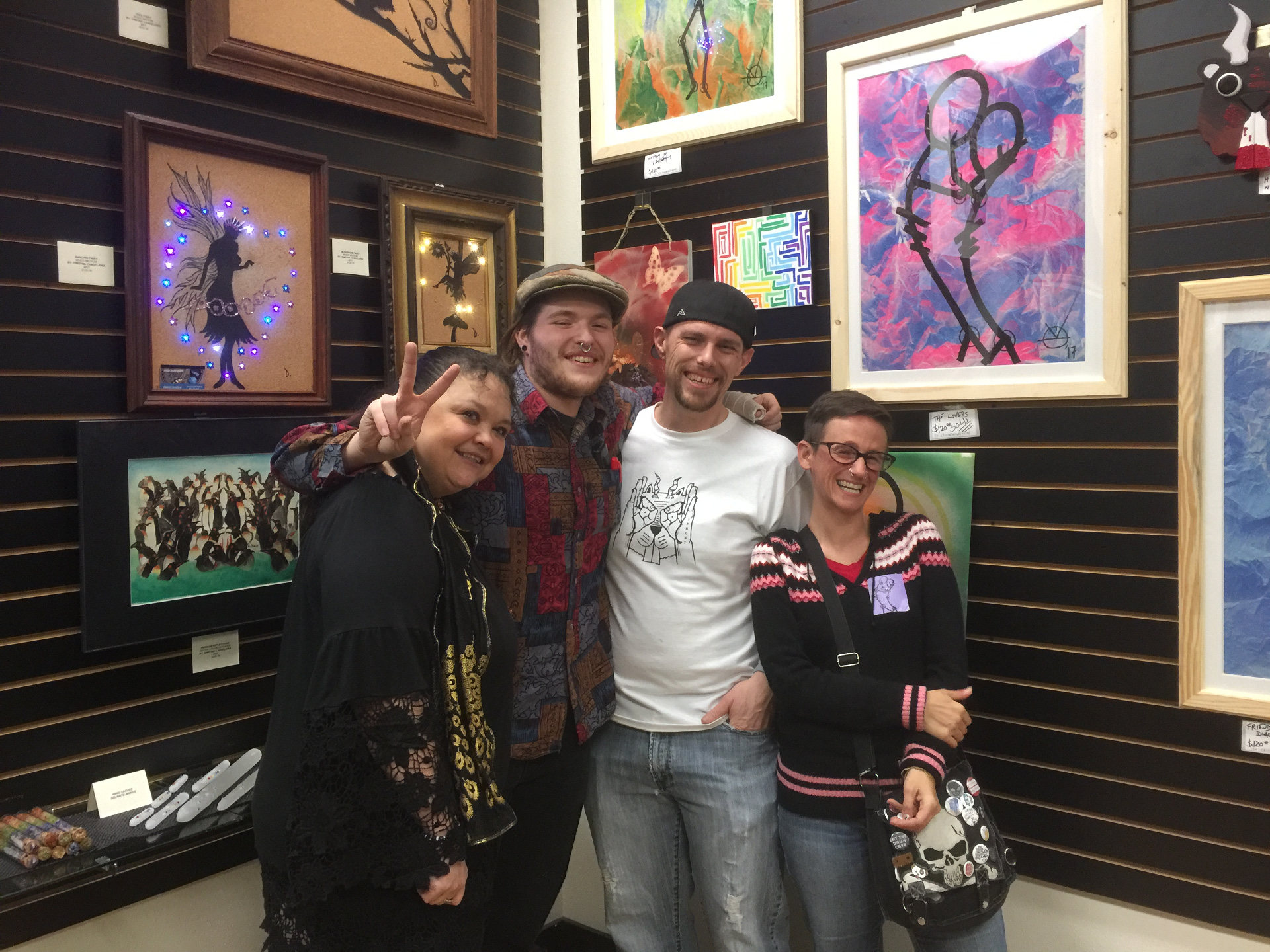 Round 2 has been completed without a hitch! On the the 14th of April Smokin Js Vancouver location hosted its 2nd art show with high energy music and high energy art.
The event was bigger and better this time. Everyone had a good time with laughing and socializing being heard underneath the heavy blues, almost psychedelic sounds of the night's musical acts Meat Creature and Swamp Boys. The second Art Show at Smokin Js was a smokin success!
Smokin Js was proud to have three fantastic visual based artists represented at its April show. Dimitria Candelaria worked a lot with crystals and stones. Making wire wrapped jewellery and superb oil/watercolor paintings, and even combining the medias on a few pieces. Reviewing her visuals of crystal, animals, the fey and forest scenes leaves you with a feeling of magic incarnate. We also had the wonderful opportunity to have the artists 2Front, a Vancouver local and KristaDaggerMouth a Portland native feature at the show. Both are friends outside of the artist community and have done many collaborative works occasionally going under the name 2daggerFrontmouth. Krista's work tends to focus on different scenes depicting her iconic human figure. The faceless humanoid stick figures allow anyone to look at her work and relate to the scene it is depicting, thus allowing to have a deeper commentary with the viewer and the artist. 2Fronts pieces focus on simplistic messages with a deep impact. For example he has created a few characters known as the "Angry Bastards" and "Angry Trees." I remember once asking why the trees are angry? 2Front responded with "They have a lot to be angry about - deforestation, wildfires, humans, you name it". These messages allow us to look at different avenues of thought for many things we take for granted.
All the artists were kind enough to donate some work for an art giveaway that was drawn on April 21st. Krista and 2Front donated a lovely collaboration piece while Dimitria donated a pair of silver earrings and a sterling silver hand wrapped blue crystal necklace.
Thank you to everyone who made this event possible. It means so much to me and the community we are building together. I look forward to June 30th for Art Show #3. We already have some special ideas for it in the works.
If you'd like to see the video drawing go to @SherpaNW on Instagram
If you'd like to get into contact about the shows please send an email to Aaron@SmokinJs.com
Aaron Pacora