Art Prize 2017
10/04/2017 at 16:24 pm
For the 3rd year in a row, Smokin Js is hosting artists for ArtPrize in Grand Rapids, Mi. ArtPrize is the world's largest art competition and spans around 3 square miles in downtown Grand Rapids. Every year it brings about 400,000 people to town across the 3 weeks the competition runs. The public votes on art pieces and the grand prize winner takes home $200,000. There is also a Juried vote that is judged by world renowned art experts that awards another $200,000. This makes it the largest cash prize for an art competition in the world. See the 2016 award winners here. We have 4 amazing pieces that help fit the location and mood for the Grand Rapids Smokin Js location.
From our local friend, Robin Streeter, we have a piece titled "As The Water Flows". Robin has been a featured First Friday artist for us before and we were excited to have her work here again. When she learned to paint, she didn't like the feel of brushes and developed her own method of putting paint to canvas. She uses various spoons to get different styles and textures and it gives her paintings a depth you can only appreciate in person.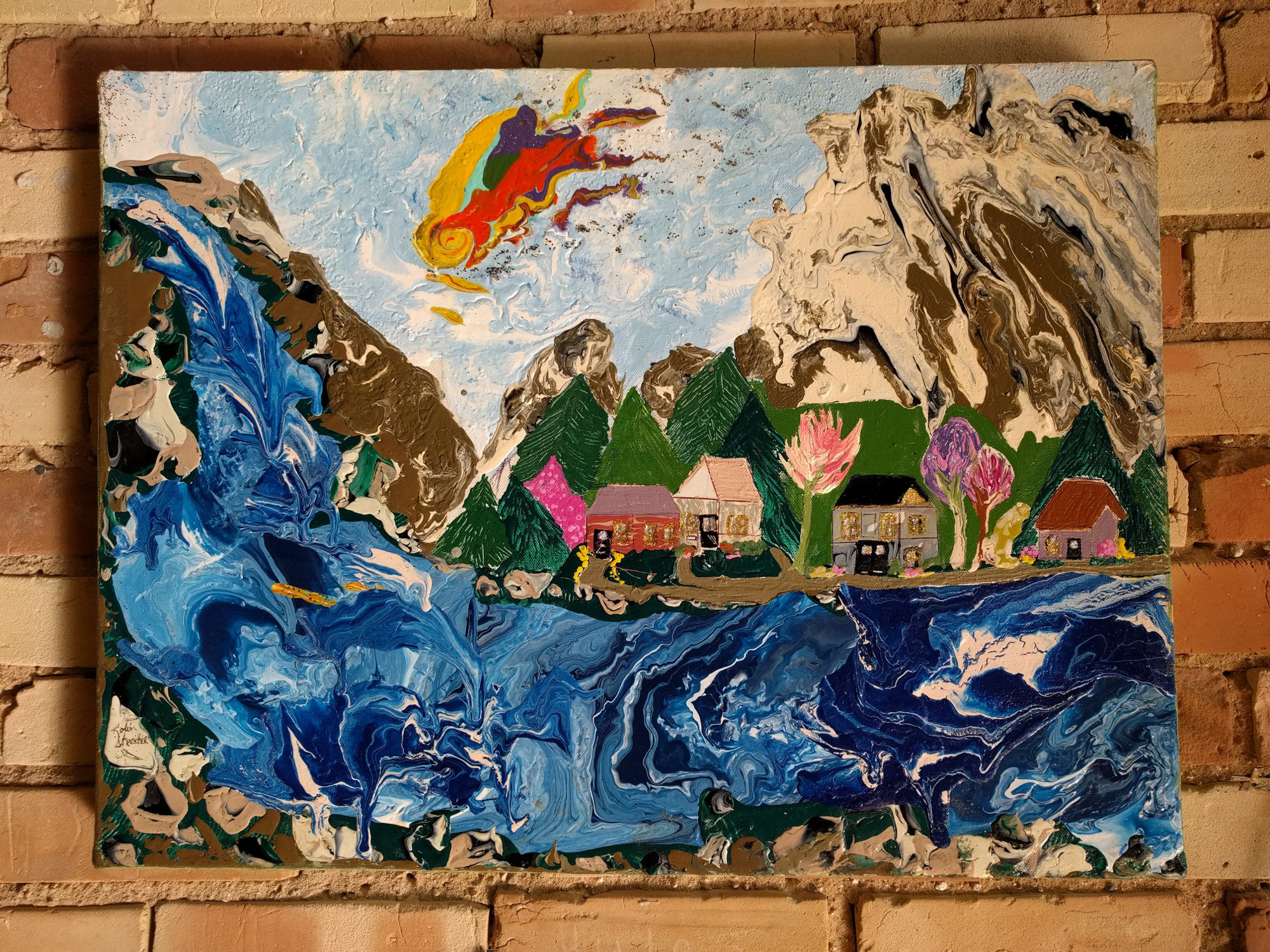 "Hope and Fury" by Yehudit Newman is a glass vessel with woven glass beads. She used a lot of native styling as well as classic earth colors to bring life to a plain glass bottle. Each bead was hand threaded and delicately placed to make the specific patterns. It is also displayed on a matching crocheted doily to complete the piece and help protect it from movement.
Our only out-of-state artist is Zach Mory who sent us "Fever Dream". I have a particular fondness for pen line art and this one amazed me from the initial sketch on the ArtPrize site. An amazing mix of psychedelic and subconscious imagery, there is too much to look at in this piece. Each pen line had to be drawn with extreme care as there is no way to correct mistakes. You could spend hours or days or maybe the whole span of ArtPrize just looking at the details in this piece.
No stranger to outrageous, we jumped at the chance to host "Mushroom Totem" by A.R. Travis. This huge piece is a solid chunk of cedar with inlaid Abalone. There are about 250 pieces that shine as the built in lights turn on and off in the 3 minute cycle. The sheer size of the piece is enough to inspire awe and then as you get in and see the care of work on the inlays, you finally start to understand what Awesome really is.

ArtPrize started on September 20th and runs until October 8th all through downtown Grand Rapids. All art pieces will be on display for the duration of the event so you have time to see all 1349 entries. And you HAVE to be in Grand Rapids to vote so be sure to stop in and appreciate the arts and help our artists towards that Grand Prize. Smokin Js is a proud annual participant in Art Prize, and a proud supporter of local artists all across the United States. "Creativity is the inspiration of progress." Jay Fratt - Founder of Smokin Js